This is a talk page, where you can send messages and comments about the page for Bart of Darkness.

Please sign and date your posts using four tildes (~~~~).
New discussion topics go at the bottom of the page.
New to Simpsons Wiki? Welcome!
This is not a forum for general discussion about the article's subject. Only talk about edits to the article and how to improve it. Any other posts may be removed.

Some Talk page guidelines

Be polite
Assume good faith
No personal attacks
Don't bite the newcomers!
Earth Reference
In this reference it says that Bart saw Earth but it might of been a similar planet. No known planet (in 1994 when it aired) to have continents. Their is a satelight orbiting it (pardon the spelling of Satelight) so it must be known by people on Earth. So this means it
HAS
to be Earth and not a similar planet.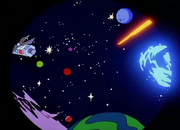 Here is the exact picture. You see what i am talking about. (A bully user (talk) 01:52, December 3, 2012 (UTC))
Run that by me one more time? Wahanisse (talk) 11:44, April 28, 2016 (UTC)
Ad blocker interference detected!
Wikia is a free-to-use site that makes money from advertising. We have a modified experience for viewers using ad blockers

Wikia is not accessible if you've made further modifications. Remove the custom ad blocker rule(s) and the page will load as expected.