Sweden is a country in Europe. A Swedish team entered the 2010 Winter Olympics for the curling event and came second place, getting the silver medal. Bart sent a prank phone call to a bar in Sweden after finding actor Denis Leary's cell phone.[1]
Government
The country is a constitutional monarchy, governed by King Carl XVI Gustaf and Queen Silvia, the heiress apparent is Crown Princess Victoria, who will one day be the third queen regnant and her daughter Estelle will someday be Queen regnant also, being the fourth to do so. It is a cognatic primogeniture (eldest child regardless of gender). Carl Philip, Duke of Värmland, younger brother of Victoria was Crown Prince until 1980, when the change of succession was made. Piracy?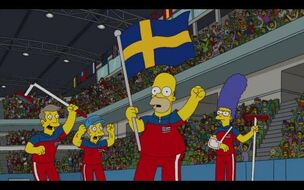 Non-Canon Appearances
The Nobel Prizes were held here and Professor Frink won one of the awards but the ceremony was ruined after his father started to kill everyone. In addition, for unknown reasons, the female Crossing Guards in the country were, with the exception of gloves and a commissar's cap, completely nude.[2]
Appearances
Citations
Ad blocker interference detected!
Wikia is a free-to-use site that makes money from advertising. We have a modified experience for viewers using ad blockers

Wikia is not accessible if you've made further modifications. Remove the custom ad blocker rule(s) and the page will load as expected.