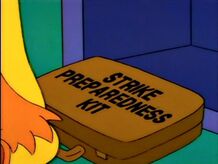 Strike Preparedness Kit is a kit used to help the students during school strikes.
History
When the teachers at Springfield Elementary School went on strike, Lisa pulled the kit out, turned the player on and listened to a teacher's voice castigating a student.
Appearances
Ad blocker interference detected!
Wikia is a free-to-use site that makes money from advertising. We have a modified experience for viewers using ad blockers

Wikia is not accessible if you've made further modifications. Remove the custom ad blocker rule(s) and the page will load as expected.