Storytown Village (also called Storytime Village) was a small theme park for children between 1 to 7½.
The park contained animatronic recreations of storybook characters, including Mother Goose, Goldilocks and the 3 Bears, The Giant (Jack and the Beanstalk), Hansel and Gretel, Old Lady Who Lived in a Shoe, Pinocchio, Humpty Dumpty, Frog Prince, Little Bo Peep, Little Miss Muffet and The 3 Little Pigs. The park also had a petting zoo, where guests could feed the animals,[1] and a ferris wheel.[2] At one point, Homer placed all of his stockpile Duff Beer bottles inside the Little Old Lady's Shoe attraction (although Flanders was led to believe that it was teenagers who did this to the attraction).[3]
Storytown Village went out of business after a child was decapitated in the park. The abandoned park was donated to Ned Flanders, who converted it into a Christian theme park called Praiseland, in honor of Maude's wishes, which itself later closed down due to a gas leak.[4] During the conversion, Homer attempted to quicken the getting rid of grass by using "vitamin G" to burn it, but ended up burning Bo Peep and her sheep (one of which was implied to be a real sheep).
Appearances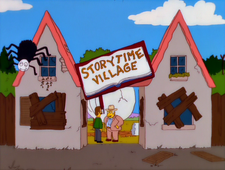 Citations
Ad blocker interference detected!
Wikia is a free-to-use site that makes money from advertising. We have a modified experience for viewers using ad blockers

Wikia is not accessible if you've made further modifications. Remove the custom ad blocker rule(s) and the page will load as expected.