"Stand By Your Manager" is a song sung by Lurleen Lumpkin, voiced by Beverly D'Angelo, in the episode Colonel Homer. The title is a parody of the classic country song, "Stand By Your Man."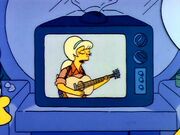 Lurleen:
His name is Homer,
He's quite a man.
I tried to kiss him,
But Homer ran.
Sure wish I could say
That I was his.
I hope that Marge knows
Just how lucky she is.
I do.