Stacy Lovell
Talk

2
17,566 articles being
edited here
Stacey Lovell is the creator of the Malibu Stacy franchise.
Early Life
Edit
She founded the Malibu Stacy franchise, but she eventually was thrown out of her own company for ideas which weren't cost-effective and for essentially committing treason against the United States during the Vietnam War by funneling funds to the Viet Cong.
Present Day
Edit
Lisa bikes to Stacy Lovell's house (built exactly like Malibu Stacey's dream house), she says she wants Mrs Lavelle to hear what Stacy is telling a generation of young girls.
Lisa and Stacy decide to create a new talking doll, Lisa Lionheart, voiced by Lisa herself and complete with her own encouraging phrases. The doll is quietly released, and even Kent Brockman (at the request of his daughter), spends his whole newcast talking about the doll, ignoring breaking news that the President was arrested for murder. However, the creators of Malibu Stacy view Lisa's doll as a real threat, and plan to sink Lisa Lionheart.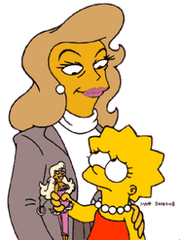 On the day the doll is officially released, numerous young girls (and Smithers) rush into the toy store at the Springfield Mall to buy Lisa Lionheart. As Lisa and Stacy Levelle watch, a cart of "new" Malibu Stacy dolls with a new hat is wheeled right into the path of the group running for the Lisa display. Lisa appeals to them that it's just the same doll with a new hat, but they all prefer to stick with Malibu Stacy (largely due to a phrase from Smithers, "but she's got a new hat!")... except for one little girl, who leaves with a Lisa Lionheart doll. Lisa remarks that even though they didn't sell out of the dolls, if the doll makes one little girl happy, it'll all be worth it. Stacy agrees, and mutters under her breath, 'Particularly if that that little girl happens to pay $46,000 for that doll.'
Ex-boyfriends
Edit
Ken, Joe, John, Dr. Colossus and Steve Austin
Appearances
Edit