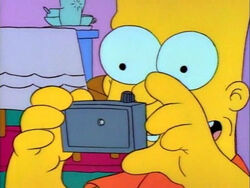 The spy camera was a small film camera that Bart bought from a magazine. He kept pestering the Female Mail Carrier every day if she had his spy camera. When he eventually got it, he attempted to take a picture of his butt, as well as various other things including a dead squirrel. He took a picture of Homer dancing with a belly dancer, Princess Kashmir, which got Homer into a lot of trouble with Marge.
Appearances
Ad blocker interference detected!
Wikia is a free-to-use site that makes money from advertising. We have a modified experience for viewers using ad blockers

Wikia is not accessible if you've made further modifications. Remove the custom ad blocker rule(s) and the page will load as expected.