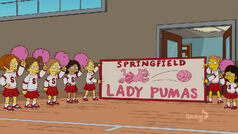 Springfield Lady Pumas is a Springfield Elementary girls' basketball team. Lisa was the team's equipment manager.
History
The team once played against a team of Shelbyville and won 2:0 in triple overtime. The school prepared a big party for their victory, but unfortunately, the whole team got food poisoning at the egg salad sandwich party.
The only healthy member of the team was Lisa, who hadn't been invited to the egg salad sandwich party, so only she was able to go to a big party.
Appearances
Ad blocker interference detected!
Wikia is a free-to-use site that makes money from advertising. We have a modified experience for viewers using ad blockers

Wikia is not accessible if you've made further modifications. Remove the custom ad blocker rule(s) and the page will load as expected.