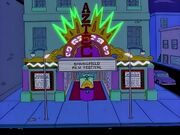 The Springfield Film Festival was a film festival held by the town of Springfield. Marge suggested the film festival as a way to boost the town's reputation, and was surprised when her idea went over so well.
Winners
Submissions
Jury Members
Grand Prize Voting
The voting produced a 2-2 tie between Pukahontas and A Burns for All Seasons. Homer later changed his vote to Pukahontas, which made it the winner, three votes to two. Ironically, the grand prize turned out to be a truck filled with a lifetime supply of Duff Beer.
Appearances
Citations
Ad blocker interference detected!
Wikia is a free-to-use site that makes money from advertising. We have a modified experience for viewers using ad blockers

Wikia is not accessible if you've made further modifications. Remove the custom ad blocker rule(s) and the page will load as expected.