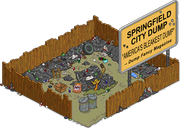 The Springfield Dump is the city's main dump.
When the town reinstated prohibition, all the town's supply of Duff was disposed of here. Homer and Bart used that beer to illegally supply the town with booze during this period. When that ran out, they resorted to making their own beer in their basement.
Homer, Bart and Lisa Simpson discovered the Mr. Sparkle box here. After his shack was destroyed by Bart, Groundskeeper Willie was reduced to living in this dump; he tried to kill Bart in a "temporarily insane" rage, but was talked out of it by Lisa.
Appearances
Ad blocker interference detected!
Wikia is a free-to-use site that makes money from advertising. We have a modified experience for viewers using ad blockers

Wikia is not accessible if you've made further modifications. Remove the custom ad blocker rule(s) and the page will load as expected.