Springfield Dog Park is a dog park in Springfield.
History
The Simpson family took their new dog Laddie to the park.[1]
Mayor Quimby once renames Springfield Dog Park to Snowball II Municipal Cat Park.[2]
The dogs that were running all over Springfield all group together at the park and surround Bart and Lisa. They are eventually saved by Marge who settles things out with the dogs.[3]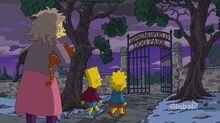 Trivia
People seen in the park with their dogs:
Appearances
Citations