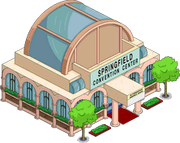 The Springfield Convention Center is a convention center in the town of Springfield and is the site of various events. The convention center once caught on fire after a riot broke out during a science fiction convention.
Events
Alternative Energy Expo
AppCrush
Baby Expo
Candy Industry Trade Show
"Close Encounters of the Comic Book Kind" Convention
Franchise Expo
Free Health Fair
Home & Garden Show
Mega-Savings Seminar
Smithsonian Traveling Exhibit
Springfield Auto Show
Springfield Pride Awards
Appearances
Ad blocker interference detected!
Wikia is a free-to-use site that makes money from advertising. We have a modified experience for viewers using ad blockers

Wikia is not accessible if you've made further modifications. Remove the custom ad blocker rule(s) and the page will load as expected.