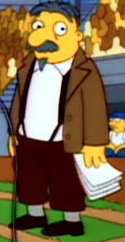 The Springfield Communist Party is Springfield's Communist party.
History
One day, Bart Simpson and Tom meet up for "Tomato Day" at the Springfield War Memorial Stadium. The purpose of the tomatoes is revealed when a recruiter for the Springfield Communist Party is introduced on the field before the start of the game; he is pelted with tomatoes before he can even begin his speech, and remarks that this is at least better than "Dart Day".
Grampa once revealed that he was a communist, but did not say if he was a member of the Springfield Communist Party.[1]
Members
Appearances
Citations
Ad blocker interference detected!
Wikia is a free-to-use site that makes money from advertising. We have a modified experience for viewers using ad blockers

Wikia is not accessible if you've made further modifications. Remove the custom ad blocker rule(s) and the page will load as expected.