Ad blocker interference detected!
Wikia is a free-to-use site that makes money from advertising. We have a modified experience for viewers using ad blockers

Wikia is not accessible if you've made further modifications. Remove the custom ad blocker rule(s) and the page will load as expected.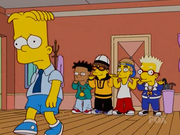 Springfield Baby is a song sung by Milhouse and his new friends.
Milhouse wants to acquire a cool reputation with his new friends, so he gives Bart a wedgie and joins in a song to tease him about being from Springfield.
Capital City Kid 1:
Springfield baby in a diaper,
poked his eye with a windshield wiper,
Springfield baby, Springfield baby
Appearance
Edit