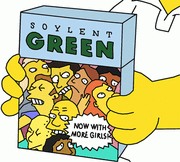 Soylent Green is a food product made out of deceased humans.
Info
The euthanasia center is a place where they turn bodies into Soylent Green.[1]
Non-Canon
In a scene that takes place forty years in the future, Homer and Bart (who has become Chief Justice of the Supreme Court) attend a "Classics of Animation" showing of The Itchy & Scratchy Movie, and as they walk by the snack bar, another moviegoer is overheard ordering Soylent Green.[3]
Behind the Laughter
Soylent Green is a fictional food that was the subject of the movie with the same title.
On The Simpsons, Soylent Green is a running gag that has appeared or been referred to on several occasions, mostly in non-canon settings such as "Treehouse of Horror" episodes, or scenes or episodes that take place in the future.
Appearances
Citations
Ad blocker interference detected!
Wikia is a free-to-use site that makes money from advertising. We have a modified experience for viewers using ad blockers

Wikia is not accessible if you've made further modifications. Remove the custom ad blocker rule(s) and the page will load as expected.