Southern Cracker (the Dryyyyyy Cracker or also known as the Cracker Factory) is a cracker brand in Springfield owned by Luann Van Houten's father. It was once the number one cracker brand in town, until the company's managerial duties were handed over to Luann's husband Kirk, who sunk it to sixth in a tie with Table Time and Allied Biscuit for reasons Luann inferred was due to Kirk's managerial impotence and lack of business sense (When Luann revealed this, Marge hastily hid the Allied Biscuit brand of crackers under the sofa, presumably to avoid worsening Luann and Kirk's infighting). The Southern Cracker factory has an enormous room where it stores the salt necessary to make its crackers, as well as an entire silo where it stores salt. Kirk once took his son Milhouse on a tour of the factory. Southern Cracker is adamant about their "happy family" appeal, having to fire Kirk when he and Luann divorced.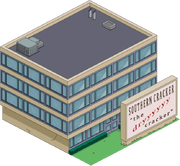 Appearances
Ad blocker interference detected!
Wikia is a free-to-use site that makes money from advertising. We have a modified experience for viewers using ad blockers

Wikia is not accessible if you've made further modifications. Remove the custom ad blocker rule(s) and the page will load as expected.