South Park
18,292 articles being
edited here
Talk

0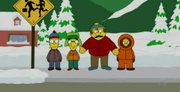 South Park is an American animated television program created by Trey Parker and Matt Stone for Comedy Central. It has been airing since 1997.
References to the show
Edit
A spoof of South Park appeared in the episode "The Bart of War" as a response from the showrunners after South Park parodied their show in the episode "The Simpsons Already Did It". South Park had parodied The Simpsons in another episode 'Cartoon Wars Part II', the second edition to a double part episode based on ripping into the writers of the animated comedy Family Guy. They included Bart Simpson as a character.
In "O Brother, Where Bart Thou?", there is a scene spoofing South Park involving Bart, Milhouse, Nelson and Ralph waiting at a bus stop, dressing up exactly like characters Stan Marsh, Kyle Broflovski, Eric Cartman, and Kenny McCormick. Ralph gets hit by a school bus driven by Otto, who remarks "Oh my god, I killed Kenny!" But then Milhouse corrected him by saying "No you hit Ralph" but Otto told them that "I killed Kenny yesterday!"
In Gorgeous Grampa, during Mr. Burns' song, he mentions Eric Cartman and shows his shadow.
See also
Edit