Solar Energy kiosk was seen at the National Energy Convention run by Hans Moleman before it's taken over.
History
At the National Energy Convention, Hans Moleman is running a kiosk promoting solar energy. A goon than asks him if it works. Moleman replies it does. The goon than strikes Hans, knocking him out. The curtains close and it opens up again with a "Fossil Fuels" sign replacing the Solar Energy.[1]
Trivia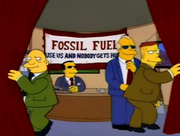 Appearance

Episode – "The Last Temptation of Homer"
Citations