Snowball III was the third cat owned by the Simpsons.
History
Lisa adopted Snowball III from an animal shelter shortly after the death of Snowball II. At the shelter, she passed over a skunk, a Siamese cat, a cat she assessed as "too needy," and a cat with an eye infection before finally deciding upon Snowball III. After bringing him home, Lisa went into the kitchen to prepare cat food to serve Snowball III his first meal in his new home. She went into the living room to check on him, only to find him drowned in the aquarium dead, apparently having tried (and failed) to catch a goldfish. Snowball III was a brown male cat and had light green eyes.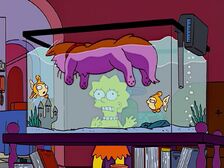 See Also
Appearances
Citations
Ad blocker interference detected!
Wikia is a free-to-use site that makes money from advertising. We have a modified experience for viewers using ad blockers

Wikia is not accessible if you've made further modifications. Remove the custom ad blocker rule(s) and the page will load as expected.