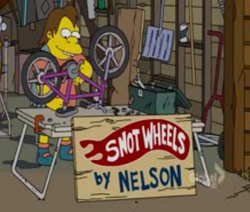 Snot Wheels is a company owned by Nelson, and invested in by Lisa, that does up bikes and makes them look better. It becomes very successful and Nelson also hires Seymour Skinner. It eventually went broke and stopped when Nelson found out he was using a glue that dissolves in water and everyone's bikes fell apart.
Employees
Behind the laughter
Snot Wheels is a parody of Hot Wheels both in name and logo.
Appearances
Ad blocker interference detected!
Wikia is a free-to-use site that makes money from advertising. We have a modified experience for viewers using ad blockers

Wikia is not accessible if you've made further modifications. Remove the custom ad blocker rule(s) and the page will load as expected.