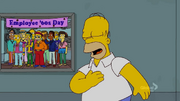 Sneaking in at Noon
is a song by
Homer Simpson
, with a line by
Barney Gumble
, which Homer sang as he was sneaking into
work
late. It was written by Justin Hurwitz and appeared in the episode, "
The Falcon and the D'ohman
." The song is a parody of "
Walking on the Moon
" by
The Police
.
Lyrics
What the?
Ah-ha!
Quiet steps are what I take,
Sneaking in at noon.
Just in time for my lunch break,
Got my fork and spoon.
Time the cameras just right,
Duck in the bathroom.
Hi Homer!
Homer :
I'm still drunk from last night,
Got driven home, I don't know by whom.
Some. May say.
I don't deserve any pay.
But hey. I came up with '60s day. Last May.
Appearances
Ad blocker interference detected!
Wikia is a free-to-use site that makes money from advertising. We have a modified experience for viewers using ad blockers

Wikia is not accessible if you've made further modifications. Remove the custom ad blocker rule(s) and the page will load as expected.