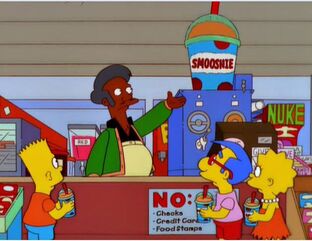 Smooshies are a drink which is delivered by a hobo to the
Kwik-E-Mart
, instead of
Annette
delivering
Squishees
to the store, apparently, smooshies taste disgusting.
This change was in the episode The Sweetest Apu. The obvious reason for the change was the fact that the smooshie deliveryman was ugly as he was a hobo instead of Annette who was very beautiful.
The Smooshies were presumably replaced by Squishees as they have returned in later episodes.
| | | |
| --- | --- | --- |
| | D'oh! | This article is a stub. You can help the wiki by embiggening it. |
Ad blocker interference detected!
Wikia is a free-to-use site that makes money from advertising. We have a modified experience for viewers using ad blockers

Wikia is not accessible if you've made further modifications. Remove the custom ad blocker rule(s) and the page will load as expected.