For Smithers' article, please go here.
"In death, we shall be together always."
―Slithers
Slithers is Lord Montymort's loyal snake assistant. When Montymort dies (from being stabbed in his enchanted shin by student wizard Bart Simpson), Slithers is completely grief-stricken. To Bart's and Lisa's disgust, Slithers swallows Montymort's body whole in typical snake fashion. Slithers sobs throughout the process and says, "In death we shall be together always."
Behind the Laughter
Appearances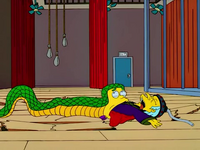 Ad blocker interference detected!
Wikia is a free-to-use site that makes money from advertising. We have a modified experience for viewers using ad blockers

Wikia is not accessible if you've made further modifications. Remove the custom ad blocker rule(s) and the page will load as expected.