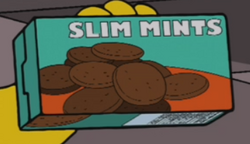 Slim Mints are a confectionery product sold by girl scouts.
History
First shown in the episode Papa Don't Leech, when Lisa handed it (along with other cokies) to mayor Quimby. She expected him to pay for that, but he was never going to. So she has to take it away from him by force.
Second appearance happened in Homerland. When Homer is interrupted by Lisa in his plot to sabotage the Springfield Nuclear Power Plant. Lisa says that "girl scout cookies get you anyway" after he asked how he got it.[1]
Appearances
Citations
Ad blocker interference detected!
Wikia is a free-to-use site that makes money from advertising. We have a modified experience for viewers using ad blockers

Wikia is not accessible if you've made further modifications. Remove the custom ad blocker rule(s) and the page will load as expected.