Cultural references
The title is a reference to the Sleeping with the Enemy, a 1991 film.
The song everybody sung, while Sherri and Terri saw a skunk in their lunchboxes (except Sherri and Terri since they both are chased by the skunk), is a parody of Jingle Bells.
The watermark that says "Only You can Prevent test fraud" references Smokey the Bears famous quote.
The B plot in this episode could be based on the fact that many girls (and a few men) are being unhappy with their body image. So they try to avoid food and exercise themselves to become thin.
Trivia
Goofs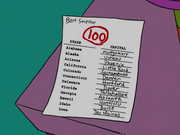 The scene with the State Capital test is very inaccurate. First the test left out Arkansas so the made the Capital of California Little Rock. Which is the Capital of Arkansas. Colorado Capital became Sacramento Califorina's Capital. Colorado became Hartford. Then the answers merged closer making it the same as it should be. The final problem is Homer Claims the Capital of Kentucky is not Frankfort. The Capital is Frankfort. The problem with it is Kentucky is not on the One Page quiz. This is because the quiz only goes to Iowa.
When Sherri and Terri are running away from the skunk, Terri has a purple hand.
Homer drew a simple black and white sketch of himself, but when he talks to Lisa, his drawing is colored.