Sir Putt-A-Lot's Merrie Olde Fun Centre
Talk

0
Share
Sir Putt-A-Lot's Merrie Olde Fun Centre is a miniature golf course in Springfield. It hosts an annual competition, which Bart and Todd both competed in.[1] Homer used to work there and subsequently knocked up Marge with their firstborn Bart inside one of the course's obstacles.[2] Homer and Marge revisited their "old love nest" after their 11th year anniversary to rekindle their sex life.[3]
Gallery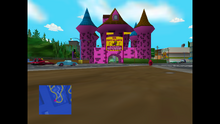 Trivia
Appearances
Citations
Ad blocker interference detected!
Wikia is a free-to-use site that makes money from advertising. We have a modified experience for viewers using ad blockers

Wikia is not accessible if you've made further modifications. Remove the custom ad blocker rule(s) and the page will load as expected.