Ad blocker interference detected!
Wikia is a free-to-use site that makes money from advertising. We have a modified experience for viewers using ad blockers

Wikia is not accessible if you've made further modifications. Remove the custom ad blocker rule(s) and the page will load as expected.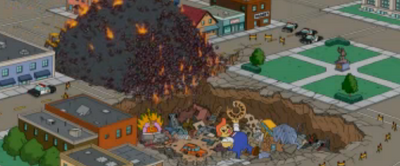 Springfield
 has had two sink holes. One sink hole was at The Simpsons house which took place in
The Simpsons Movie and
the other in Adventures in Baby Getting when a forcete keeps dripping over a year and causes a massive hole in the centre of Springfield.