Home
Talk

301
13,620 articles being
edited here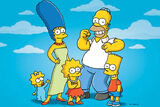 The free encyclopedia for everything related to The Simpsons. The wiki allows anyone to create or edit any article, so everyone can contribute their knowledge to help create a decisive database of Simpsons information.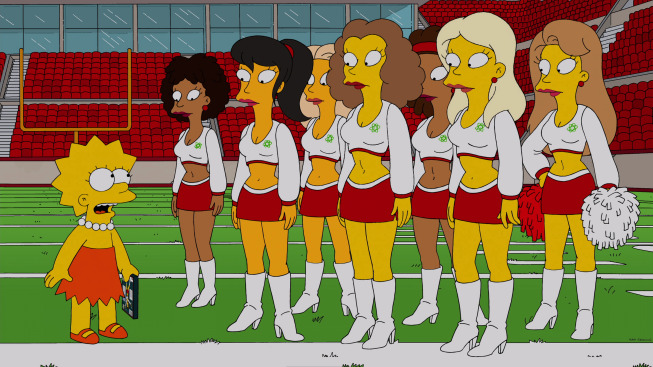 The fifth episode of Season 25, "Labor Pains", is set to air on the 17th of Novemeber 2013. Labor Pains will be the fifth episode of Season 25. A pregnant woman named Gretchen gets stuck in an elevator. With the help of Homer, gives birth and names the baby Homer, Jr. It will feature guest star, Elisabeth Moss as Gretchen.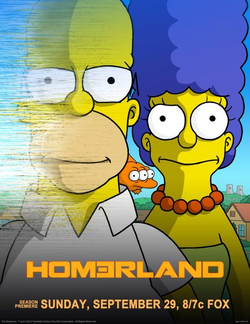 "Convention, convention, convention..."
"Homerland" is the season 25 premiere. It premiered on September 29th 2013. It was be written by Stephanie Gillis. When Homer acts oddly polite after a Nuclear Power Convention, Lisa decides to hire someone to investigate - an FBI agent portrayed by Kristen Wiig.
The episode opens with a montage parodying the real life television drama Homeland. Ronald Reagan, George Bush, Mayor Quimby and Bill Clinton are a few the characters throughout the montage speaking about terrorist activities.
"Holidays of Future Passed" is the ninth episode of Season 23.
At Christmas, 2041, grown-up Bart, Lisa and Maggie bring their kids to Homer and Marge's house. When there, they learn about parenting and loving your family.
Read more of this episode | More featured episodes | Vote for Featured episode
Featured Quote
Featured Song
Swag
Swag is the song Homer, Lenny and Carl sung at the Nuclear Workers Convention, Atomic-Con.
Lyrics
Homer:
Swag!
I'm gonna grab forever somethin' I really don't need!
Swag!
I'm gonna have forty key chains,
and I don't even have forty keys!
Homer, Lenny and Carl:
Swag!
Did You Know?
From the Simpsons Wiki's articles and resources.
...that Ned Flanders once checked himself into a psychiatric hospital after losing his temper? ("Hurricane Neddy")
...that when Lisa decided to change her appearance, she chose the same appearance as Olivia Newton-John's character Sandy Olsen had in the movie Grease? ("Lard of the Dance")
Suggest a new "Did You Know?"
Help out Simpsons Wiki by creating articles
Poll
(Note: These are guest stars from various seasons. If the poll was renamed, voting would start over, so we will leave it as is for the moment.)
Which was your favorite guest star from various seasons?
Suggest a new poll • Previous polls
Need Help?

If you're having trouble with the site and don't understand how to use it, don't be afraid to ask! Our administrators won't bite. If you wish to join or have any queries about editing than feel free to browse through our expansive tutorial: Help
However, if the tutorials are too confusing, then feel free to message one of our four administrators. Just leave a message on their talk page, and we will be sure to help you as soon as possible.
Editor of the Month

Join and you can be apart of our monthly competition! This competition involves everyone from the wiki competing for the prestigious award of Editor of the Month. If you can make edits that BENEFIT this wiki the most, you can win our award and go into wiki history as one of the best! We also have a range of other awards and competitions. To find out how to enter follow the link: Simpsons Wiki: Editor of the Month.
Chat
Want to chat with your fellow Simpsons Wiki members? Have a quick question you need answered? Click here to join our Chat channel. (Opens a new window and connects you to our on-wiki Chat.)
Featured pictures
Browse