18,186 articles being
edited here
Talk

326

The free encyclopedia for everything related to The Simpsons. The wiki allows anyone to create or edit any article, so everyone can contribute their knowledge to help create a decisive database of Simpsons information.
Channel 6 News

.

.

.








June 6th, 1955 - March 8th, 2015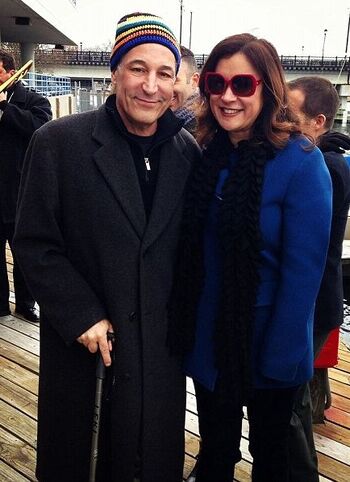 "[T]he real creative force behind The Simpsons was Sam Simon. The tone, the storytelling, the level of humor – that was all developed on Sam's watch."
―Kevin Levine (former Simpsons writer) on Sam Simon
"In the beginning, I was skeptical it could be successful, but I was not skeptical it could be good. I was hoping for 13 episodes that my friends would like. It's a good lesson, isn't it? If you do something trying to make your friends laugh and that you can be proud of, you can also be successful."
―Sam Simon on The Simpsons's first season
Samuel "Sam" Simon (June 6, 1955 - March 8, 2015) was the co-creator of The Simpsons with Matt Groening and James L. Brooks. He had also had success as an American boxing manager, poker player, writer, director, producer and philanthropist. He also worked on many other television shows including Cheers and The Drew Carey Show. In regards to his work on The Simpsons, Simon has been credited for "lay[ing the shows's] foundation... and developing [the show's] sensibility."
Simon died of cancer in his Los Angeles house on March the 8th, 2015.

Featured article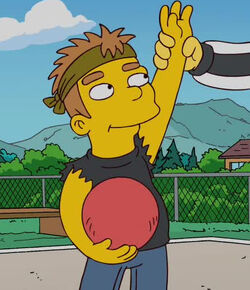 "Where do you want your ball mark, face or belly?"
―Erik (to Bart)
'Erik is a fifth grader at Springfield Elementary School. He used to be friends with Bart, the first and the second boy, when they were younger. After Bart hits him to get him out in dodgeball, he caught the ball, which had been flung high into the air after hitting him, meaning that the fourth graders lost the game. This started a war in the school between the fourth and fifth graders. Eventually, when the fourth and fifth grades planned to commit a brawl after school, Bart realized that he and the 5th grader have the same sword-shaped scar on his hand.

Featured episode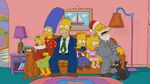 "Holidays of Future Passed" is the ninth episode of Season 23.
At Christmas, 2041, grown-up Bart, Lisa and Maggie bring their kids to Homer and Marge's house. When there, they learn about parenting and loving your family.
Featured Quote
Featured Song
Swag
Swag is the song Homer, Lenny and Carl sung at the Nuclear Workers Convention, Atomic-Con.
Lyrics
Homer:
Swag!
I'm gonna grab forever somethin' I really don't need!
Swag!
I'm gonna have forty key chains,
and I don't even have forty keys!
Homer, Lenny and Carl:
Swag!
Did You Know?
From the Simpsons Wiki's articles and resources.
...that Ned Flanders once checked himself into a psychiatric hospital after losing his temper? ("Hurricane Neddy")
...that when Lisa decided to change her appearance, she chose the same appearance as Olivia Newton-John's character Sandy Olsen had in the movie Grease? ("Lard of the Dance")
<center">Suggest a new "Did You Know?"
Help out Simpsons Wiki by creating articles
Poll
Which character do you think is being killed off in Season 26?
Suggest a new poll • Previous polls
Need Help?

If you're having trouble with the site and don't understand how to use it, don't be afraid to ask! Our administrators won't bite. If you wish to join or have any queries about editing than feel free to browse through our expansive tutorial: Help
However, if the tutorials are too confusing, then feel free to message one of our four administrators. Just leave a message on their talk page, and we will be sure to help you as soon as possible.
Editor of the Month

Join and you can be apart of our monthly competition! This competition involves everyone from the wiki competing for the prestigious award of Editor of the Month. If you can make edits that BENEFIT this wiki the most, you can win our award and go into wiki history as one of the best! We also have a range of other awards and competitions. To find out how to enter follow the link: Simpsons Wiki: Editor of the Month.
Chat
Want to chat with your fellow Simpsons Wiki members? Have a quick question you need answered? Click here to join our Chat channel. (Opens a new window and connects you to our on-wiki Chat.)
Featured pictures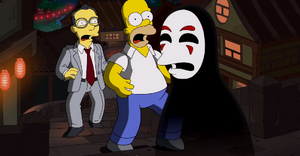 The Simpson's tribute to Studio Ghibli.
Browse