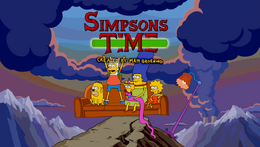 The Simpsons Time Theme Song is a song sung in the episode Monty Burns' Fleeing Circus, during the episode's couch gag.
Lyrics
Simpsons time.
Run, don't walk.
You might even hear Maggie talk.
Bart, the boy and a dog named Homer
and jokes written on signs.
It's Simpsons Time!
Trivia
Ad blocker interference detected!
Wikia is a free-to-use site that makes money from advertising. We have a modified experience for viewers using ad blockers

Wikia is not accessible if you've made further modifications. Remove the custom ad blocker rule(s) and the page will load as expected.