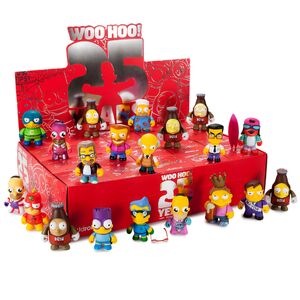 The Simpsons are celebrating their 25th birthday. Kidrobot has released a 25th Anniversary Edition featuring variations of characters. The blind box toys (meaning you don't know which one you'll get until you open them) are currently available on Kidrobot's website at $11.99 each.
It includes characters :
Radioactive Man
Bartman
See My Vest Burns
Plow King Barney
King Sized Homer
Comic Book Guy's The Collector
The Seven duffs
Milhouse as Fall out boy
In addition to the blind box toys,there are additional pieces.Limited edition 3'' vinyl figures of Bart and Homer , called the "Grin" series.They both have a big exaggerated smile and cost $14.99 each.
Gallery
Ad blocker interference detected!
Wikia is a free-to-use site that makes money from advertising. We have a modified experience for viewers using ad blockers

Wikia is not accessible if you've made further modifications. Remove the custom ad blocker rule(s) and the page will load as expected.