The Simpson House Boat was the house boat the Simpsons live at when they were under witness protection.
History
When Sideshow Bob tries to kill Bart, the Simpson family goes into witness protection and has to move. They live at the house boat at Terror Lake.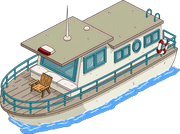 Appearances
Ad blocker interference detected!
Wikia is a free-to-use site that makes money from advertising. We have a modified experience for viewers using ad blockers

Wikia is not accessible if you've made further modifications. Remove the custom ad blocker rule(s) and the page will load as expected.