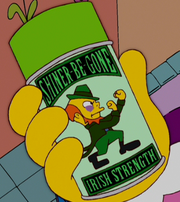 Shiner-Be-Gone is a grooming product that removes the appearance of a black eye. It is applied by aerosol spray and comes in Irish Strength. The can has a red headed man with his dukes up, clenched fists in front of his body and standing in a threatening or defiant manner, in preparation for a fistfight.
History
Marge uses it to remove a black eye she got while fighting Chloe Talbot. It was kept in the family medicine cabinet in the bathroom.
Appearance
Ad blocker interference detected!
Wikia is a free-to-use site that makes money from advertising. We have a modified experience for viewers using ad blockers

Wikia is not accessible if you've made further modifications. Remove the custom ad blocker rule(s) and the page will load as expected.