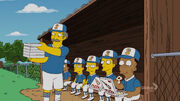 The Shelbyville Starter 'Staches are a children baseball team of Shelbyville.
History
Their first game in the little league was against Springfield Isotots. Lisa, the new manager of the Isotots, used sabermetrics to organize their strategy and told her players to walk five steps to the right. Ralph then caught a ball and Starter 'Staches lost the game.
Appearances
Ad blocker interference detected!
Wikia is a free-to-use site that makes money from advertising. We have a modified experience for viewers using ad blockers

Wikia is not accessible if you've made further modifications. Remove the custom ad blocker rule(s) and the page will load as expected.