The Simpsons: Sex, Lies & the Simpsons is a collection of episodes that was released on 1 October 1999 on VHS and on 16 August 2004 on DVD as part of the series The Simpsons Classics.
Episodes
"Bart After Dark"
"Lisa's Rival"
"New Kid on the Block"
"The Last Temptation of Homer"
Behind the Laughter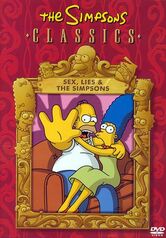 Ad blocker interference detected!
Wikia is a free-to-use site that makes money from advertising. We have a modified experience for viewers using ad blockers

Wikia is not accessible if you've made further modifications. Remove the custom ad blocker rule(s) and the page will load as expected.