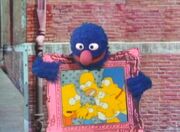 Sesame Street
is an educational television program designed for preschoolers, and is recognized as a pioneer of the contemporary standard which combines education and entertainment in children's television shows.
History
The Simpsons appeared in the celebrity version of the Sesame Street song "Monster in the Mirror." The Simpsons replace two monsters on a wall painting, and at the end, Homer reprimands Bart (who yells "Hey, wubba man!").
Sesame Street characters have also been seen around Springfield.[1][2]
See Also
Citations
Ad blocker interference detected!
Wikia is a free-to-use site that makes money from advertising. We have a modified experience for viewers using ad blockers

Wikia is not accessible if you've made further modifications. Remove the custom ad blocker rule(s) and the page will load as expected.