Sequel Stop is a game store in Springfield where Bart Simpson attempts to buy a videogame called Grand Theft Scratchy from Jeremy Freedman, using a Cal Calzone's Zone Card as a legal ID, only for the game to be snatched out of his hands by Marge when she catches him with the game. It was also released on The Simpsons Tapped Out during the Christmas 2014 update.
Behind the laughter
It is meant to be a parody of GameStop.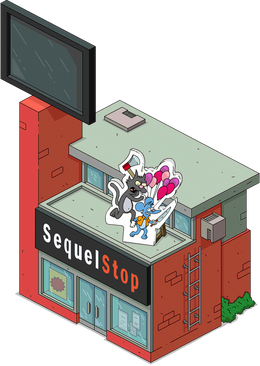 Appearances
Ad blocker interference detected!
Wikia is a free-to-use site that makes money from advertising. We have a modified experience for viewers using ad blockers

Wikia is not accessible if you've made further modifications. Remove the custom ad blocker rule(s) and the page will load as expected.