Season 24
Talk

0
17,212 articles being
edited here
Season 24
Original run
September 30, 2012 - May 19, 2013.[1]
No. of episodes
22
Previous season
23
Next season
25
The Simpsons was confirmed on October 7, 2011 as being renewed through its 25th season. This occurred as part of the negotiations with the show's main actors over their salaries as a means of keeping the show going. Season 24 began on September 30, 2012 and ended on May 19, 2013.[2]
Al Jean, executive producer of The Simpsons, has said he views the two additional seasons as a beginning and that it is a goal to complete thirty seasons by the end of the decade.[3]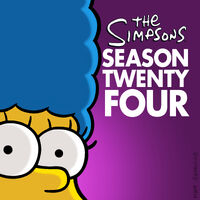 Guest Stars
Edit
Seth MacFarlane, most famous for his animated sitcoms Family Guy, American Dad! and The Cleveland Show, will play Ben, a man who tries to seduce Marge after she mistakes a website where wives can have affairs from their husbands for a cupcake website. Showrunner Al Jean has said that he hopes Family Guy will return the favor and feature a cast member from The Simpsons. [4]
Lisa Lampanelli will play Ben's wife in "Dangers on a Train.
Danny DeVito as as Homer's brother Herb Powell
To date, this season is the only one to have guest stars in nearly all episodes (excluding "A Tree Grows in Springfield" and "To Cur, with Love").
Citations
Edit