The twentieth season began airing on September 28, 2008 with "Sex, Pies, and Idiot Scrapes" and ended on May 17, 2009 with "Coming to Homerica". Al Jean is the showrunner of this season and previous seasons since Season 13. The season had officially been confirmed to air by the network in May 2008. The show is now tied with Gunsmoke as the longest running American primetime television series.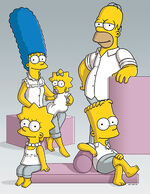 Production on the season was delayed because of contract negotiations with the six main voice actors, but was resolved and the actors' salary was raised to $400,000 per episode. The delay in production has caused the planned 22 episodes to be shortened to 20.
Voice actor Dan Castellaneta is to be credited as a consulting producer for the first time.
The Complete Twentieth Season was released on DVD on January 12th, 2010, just a few weeks after the series' 20th anniversary.
Transition to HD
Season 20 also marks the transition to the HD broadcast format. Starting with the episode "Take My Life, Please", more elaborate Opening Sequences were developed that could change from episode to episode. For example, a three-eyed crow flies from left to right at the beginning of this episode, then flies in the opposite direction every other episode. The chalkboard gag for "Take" reads "HDTV is worth every cent".
The Opening Sequence would have even more variations, starting with "Bart Gets a "Z"" in Season 21.
Episodes
| Image | # | Original airdate | Prod. Code | Title | Title Reference |
| --- | --- | --- | --- | --- | --- |
| | 1 - 2001 | September 28, 2008 | KABF17 | "Sex, Pies, and Idiot Scrapes" | Sex, Lies, and Videotape |
| | 2 - 2002 | October 5, 2008 | KABF15 | "Lost Verizon" | Lost Horizon |
| | 3 - 2003 | October 19, 2008 | KABF14 | "Double, Double, Boy in Trouble" | Double, Double, Toil and Trouble |
| | 4 - 2004 | November 2, 2008 | KABF16 | "Treehouse of Horror XIX" | N/A |
| | 5 - 2005 | November 9, 2008 | KABF18 | "Dangerous Curves" | N/A |
| | 6 - 2006 | November 16, 2008 | KABF19 | "Homer and Lisa Exchange Cross Words" | N/A |
| | 7 - 2007 | November 30, 2008 | KABF20 | "Mypods and Boomsticks" | Bedknobs and Broomsticks |
| | 8 - 2008 | December 7, 2008 | KABF21 | "The Burns and the Bees" | The Birds and the Bees |
| | 9 - 2009 | January 25, 2009 | KABF22 | "Lisa the Drama Queen" | Lisa the Beauty Queen |
| | 10 - 2010 | February 15, 2009 | LABF01 | "Take My Life, Please" | Take My Wife, Please |
| | 11 - 2011 | March 1, 2009 | LABF02 | "How the Test Was Won" | How the West Was Won |
| | 12 - 2012 | March 8, 2009 | LABF03 | "No Loan Again, Naturally" | Alone Again, Naturally |
| | 13 - 2013 | March 15, 2009 | LABF04 | "Gone Maggie Gone" | Gone Baby Gone |
| | 14 - 2014 | March 22, 2009 | LABF11 | "In the Name of the Grandfather" | In the Name of the Father |
| | 15 - 2015 | March 29, 2009 | LABF05 | "Wedding for Disaster" | Recipes for Disaster |
| | 16 - 2016 | April 5, 2009 | LABF06 | "Eeny Teeny Maya, Moe" | Eeny, Meeny, Miny, Moe |
| | 17 - 2017 | April 19, 2009 | LABF07 | "The Good, the Sad and the Drugly" | The Good, the Bad, and the Ugly |
| | 18 - 2018 | April 26, 2009 | LABF08 | "Father Knows Worst" | Father Knows Best |
| | 19 - 2019 | May 3, 2009 | LABF10 | "Waverly Hills, 9-0-2-1-D'oh" | Beverly Hills, 90210 |
| | 20 - 2020 | May 10, 2009 | LABF09 | "Four Great Women and a Manicure" | Four Weddings and a Funeral |
| | 21 - 2021 | May 17, 2009 | LABF12 | "Coming to Homerica" | Coming to America |