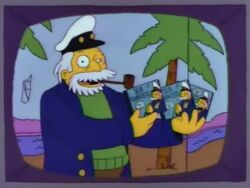 The Sea Captain's music CDS with sea themed songs or sea chanties. Some of the songs are : Blow the man down, What do you do with a drunken sailor ,Dead man's chest ,Asleep in the Deep ,Row row row your boat ,The Flogging song ,Love theme form Das Boat ,In the Navy ,Sink the Bismarck and Columbia, gem of the ocean. .He sells them on a infomercial on late night television .
Apperance
Gallery
Ad blocker interference detected!
Wikia is a free-to-use site that makes money from advertising. We have a modified experience for viewers using ad blockers

Wikia is not accessible if you've made further modifications. Remove the custom ad blocker rule(s) and the page will load as expected.