Save Hitler's Brain
is a video game in the
Simpsons
.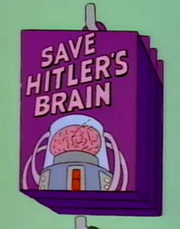 Plot
Presumably set on or after April 30th, 1945 (that is when Hitler committed suicide) the player's objective is for unknown reasons to save Adolf Hitler of Germany's brain. It is shown at the Try-N-Save in Marge Be Not Proud near Bonestorm.
Behind the Laughter
The title is the name of the movie They Saved Hitler's Brain.
Appearances
Ad blocker interference detected!
Wikia is a free-to-use site that makes money from advertising. We have a modified experience for viewers using ad blockers

Wikia is not accessible if you've made further modifications. Remove the custom ad blocker rule(s) and the page will load as expected.