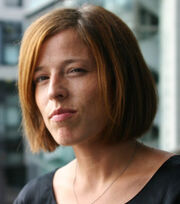 Sandra Schwittau (born 1969 in Munich) is a German actress, author, and voice actor who provides the German voice of Bart Simpson.
Biography
Schwittau was educated as a stage actress at the Lee Strasberg Theatre and Film Institute in New York City, as well as in Munich. She started voice acting for movies and television in 1979. Since 1991, she has voiced Bart Simpson in the German dubbed version of every episode of The Simpsons, as well as in The Simpsons Movie.
She also provides the voice of Shelly Marsh on South Park, of Hilary Swank (in Boys Don't Cry und Million Dollar Baby), Eva Mendes (Hitch), Renée Zellweger (Cold Mountain), Helena Bonham Carter (Fight Club) and Milla Jovovich (Joan of Arc), as well as Claudia Black (Farscape's Aeryn Sun).
Schwittau has lived in Berlin since 1999.
Characters
Image Gallery
External links