Salsa mix version of Everybody Hates Ned Flanders
Talk

0
Share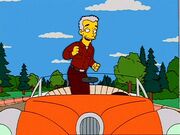 The
Salsa mix version of Everybody Hates Ned Flanders
is yet another version of
Everybody Hates Ned Flanders
that
David Byrne
tries to sell the Simpsons. It is part of the seventeenth track on the album
The Simpsons: Testify
.
Lyrics
This dude ranch is gonna be great. A whole week without hearing that stupid song.
David Byrne:
You won't think it's stupid when you hear the Extended Salsa Mix!
(gets out of the car and starts dancing on the hood)
¡No nos gusta Flanders!
¡Es un hombre estupido!
¡No nos gusta Flanders!
Watch it, Mr. Byrne! You'll slip on the Simoniz!
David Byrne:
Simoniz?
(Byrne slips on the Simoniz and lands in Moe's car.)
Moe:
Woah! Woah!
David Byrne:
Can you take me to the hospital?
Moe:
Yeah, no problem.
Ad blocker interference detected!
Wikia is a free-to-use site that makes money from advertising. We have a modified experience for viewers using ad blockers

Wikia is not accessible if you've made further modifications. Remove the custom ad blocker rule(s) and the page will load as expected.