The title of this article is a conjectural. Though the topic is found within The Simpsons universe, a proper name is not available.

The Sailor Kid is a kid who seems to be a friend of Bart. He joins Bart's army against Nelson and after victory, runs up and kisses Lisa, homage to a famous photo taken after the end of World War II. Lisa then throws him off and slaps him [1]. He was also seen when entering the adult screening at the Simpsons' [2].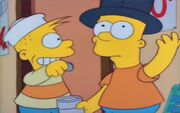 Appearances
Citations
Ad blocker interference detected!
Wikia is a free-to-use site that makes money from advertising. We have a modified experience for viewers using ad blockers

Wikia is not accessible if you've made further modifications. Remove the custom ad blocker rule(s) and the page will load as expected.