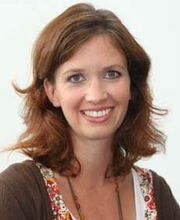 Sabine Bohlmannn (born 5 March 1969 in Munich) is a German television actress, author, and voice actor who provides the German voice of Lisa Simpson.
Biography
Bohlmannn started dubbing work for children's television in 1984. Since then, she has voiced characters in shows like Disney's Adventures of the Gummi Bears, Sailor Moon, and Pokémon. Due to her very high and soft voice she is often used to dub young children and teenagers, like Kenny McCormick on South Park. Bohlmann also works as a writer, and has written six books.
She has voiced Lisa, and, on occasion, Maggie Simpson in every episode of The Simpsons and in The Simpsons Movie.
Characters
Image Gallery
External links