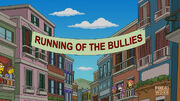 Running of the Bullies is a running contest where bullies have to defeat the nerds.
History
Lisa, The Daughter Also Rises, Terri (or Sherri), Adrian Belew and Lewis' lookalike watched the contest from the balconies.
In the streets, Jimbo, Dolph and Kearney were running after the nerds who were wearing red to anger the bullies: Martin, Database, E-mail, Cosine, Ham, Report Card and Gary. Jimbo "gored" Database. Dolph tried to "gore" Martin, but he climbed up the street lamp, so Dolph just thumbed his head against the lamp.
Behind the Laughter
The event is a parody of the

Running of the Bulls at Wikipedia.
Appearances