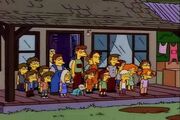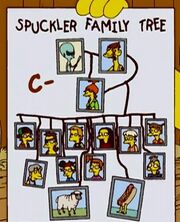 Cletus and Brandine Spuckler's children are sorted by appearance:
Though in "Changing of the Guardian", Brandine says that they have 70 children.
It's possible that their large amount is probably due to adoption, boost, abducting or illusion either from the couples's or their neighbors's mental status, for their so-called biological mother Brandine is of young age, and women in reality has a limit of birth.
Also, their nature of being product of incest is probably a joke or a result of misunderstanding of their parents's sexual roleplay.
However, at least some children who have several plots, normal names and appear in front of many Springfield residents really exist, such like Whitney Spuckler.
List of Children
Whitney, Birthday, Dubya and Mary are playable characters. Also one of the tasks/quests is for Cletus to help Brandine give birth to another child.
Brittney and Cassidy Spuckler were the first to appear in the twisted world of Marge Simpson. Oxycontain, Addem-up, Fontanelle, Pediculus and Minimum-wade Spuckler in super franchise me.