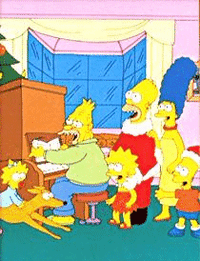 "Rudolph the Red Nosed Reindeer" is a Christmas song written by Johnny Marks performed by the Simpsons in the very first episode during the credits, "Simpsons Roasting on an Open Fire".
Lyrics
The Simpsons:
Rudolph the red nosed reindeer
Had a very shiny nose,
And if you ever saw it,
You would even say it glows.
Bart:
Like a lightbulb!
Bart!
The Simpsons:
All of the other reindeer
Used to laugh and call him names.
Lisa:
Like Schnozzola!
Homer:
Lisa!
The Simpsons:
They never let poor Rudolph
Join in any reindeer games.
Bart:
Like Strip Poker!
Homer:
I'm warning you two!
The Simpsons:
Then one foggy Christmas Eve,
Santa came to say...
Take it, Homer!
Homer:
Uh, "Rudolph, get your nose over here
So that you can guide my sleigh today."
Oh, Homer.
The Simpsons:
Then how the reindeer loved him,
As they shouted out with glee,
"Rudolph the Red Nosed Reindeer,
You'll go down in history!"
Bart:
Like Atilla the Hu—!
Homer:
Why, you little! (strangles Bart) Grrrrrr!
Ad blocker interference detected!
Wikia is a free-to-use site that makes money from advertising. We have a modified experience for viewers using ad blockers

Wikia is not accessible if you've made further modifications. Remove the custom ad blocker rule(s) and the page will load as expected.