Roy
Talk

4
17,389 articles being
edited here
Roy is a college aged cool guy who stays at the Simpsons home temporarily. He resembles Poochie. After a while of living with the Simpsons, he leaves to move in with "two sexy ladies."
Behind the Laughter
Edit
He was proposed to appear in one of the alternate realities in the "Treehouse of Horror V" segment Time and Punishment.
He was put into the show as a mocking reference to a Fox executive's suggestion that a new character be created to live with the Simpsons so as to "spice up the show".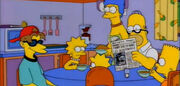 *As well as intentionally resembling Poochie, Roy is also based on
Fonzie
from the sitcom
Happy Days
.
Appearances
Edit