References in other media
18,581 articles being
edited here
Talk

0
The popularity and impact of The Simpsons has led to the series being references in various other media.
Internet Memes
Edit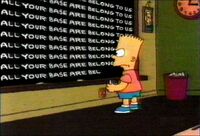 A popular series of photoshopped images for its use of a badly translated line from the imported European release of the Japanese video game Zero Wing, and exploded into use by the Newgrounds flash animation music videos of Invasion of the Gabber Robots by the defunct techno band Laziest Men On Mars, one edit consists of a take of the popular Chalkboard gag, with Bart writing the famous line down as punishment.This was the first meme used in The Simpsons.
A scene shows Sykes sleeping in front of a control panel, mirroring a TV in the background showing Homer Simpson sleeping at his workstation from Lisa's Pony.
A flashback is shown to Bianca's mother crying and being depressed over her divorce. She is sitting in the couch watching The Simpsons episode One Fish, Two Fish, Blowfish, Blue Fish. She is watching the scene where Homer is going through the five stages of grief, which inspires her to make her own motivational campaign, based off of the five stages of grief.
A In space, Jimmy's Evil Clone makes a prank call to the U.N. Security Council asking for Ivanna Shakemabooty. This is a reference to Bart's prank calls to Moe's Tavern.
In the episode "100 A.D." Roger hosts the show, at first, believing that he's hosting the Who Shot Mr. Burns? special, until he realizes he's on American Dad.
In the episode "Faking Bad", Bart Simpson appears, giving Steve a fake ID. The name on the fake ID is "Mike Rotch", which Steve makes the mistake of saying, in a similar way to how Moe says it in the Bart's prank calls gag. Bart then laughs at him and runs away.
In the episode "The Longest Distance Relationship", Sibad and Jeff traveled through a wormhole and changed through a bunch of depictions styles. One of which, depicted them the way they'd be depicted in The Simpsons.
Bart makes a cameo appearance when Dot Warner sings "And in The Simpsons they just had to name that kid "Bart". Only Bart's hair was seen in the episode to avoid copyright claims.
Toph Says "We're Finally Leaving Ba Sing Se, Worst City Ever!" A reference to Comic Book Guy's catchphrase.
Questions were asked that were related to The Simpsons, such as:
"How many fingers does Homer Simpson have?"
In the episode "Super Duck vs Muscle Bread", during the battle, a family of ducks, similar to The Simpsons, is shown.
In one episode, Brent put Marge on the list of who to not accept checks from.
In I, Duckman, Duckman watches a number of old home movies, one of them depicting the Simpsons living room. His eldest son, Ajax, is also seen, dressed like Bart Simpson. Duckman is listening to the TV, on which the announcer lists the winning lottery numbers. When he realizes he won the lottery, Duckman shouts "Woo-hoo!" His younger sons, being only babies, then crawl over and eat the lottery ticket, to which Duckman cries "D'oh!" His wife is also seen, dressed like Marge Simpson.
A boy whose appearance is similar to that of Bart's is seen at the boarding school for gifted children from the episode "Ride the High School".
In It's the Thing of the Principal Duckman shouts "D'oh!" at the end.
In the halloween episode, "Duckman and Cornfed in 'Haunted Society Plumbers'", Homer is shown at the end eating donuts. He was voiced by Dan Castellaneta.
A The episode's title is a parody of Bart's catchphrase, "Ay Carumba!"
In the episode "Year of the Rat", Mitch was seen putting olives on his fingers and ribbing them together, quoting Mr. Burns' catchphrase, "Excellent", until Louis told him, "No more Simpsons impressions.
In one episode, when Fry, Leela and Bender land on a giant ball of trash that's heading towards a collision course on Earth, Fry spots a pile of Bart Simpson dolls. Bender pulls a string behind one of them, which causes the doll to utter Bart's catchphrase "Eat my shorts", which Bender promptly follows eat my shiny metal ass
In the episode The Automated, Animated Cartoon, Garfield is briefly dressed as Bart
In "Starfire the Terrible ", after Robin's hair gel is destroyed, he attempts to get it back to normal. Robin is briefly shown with the hair style of Bart, Goku, and Sonic. 
In the episode "Brown History Month", a cutaway to Cleveland with two other black people, Randy Jackson and Carl Carlson was seen.
In the episode "Cleveland Live!", there was an epilogue, talking about all the famous adult animated cartoons. The Simpsons was one of them. They showed a picture of Bart saying "¡Ay, caramba!" and then showed Stewie Griffin from Family Guy, saying the exact same phrase, making a joke about how Family Guy ripped off The Simpsons.
In the episode "BFF's", Donna goes off on a tangent about how the nagging wives of the stupid dad in adult animated sitcoms never have any friends, listing people such as Lois Griffin, Francine Smith, Marge Simpson, and herself.
In the episode "Harder, Better, Faster, Browner", the music guide briefly showed a bunch of famous songs from other adult animated sitcoms, including Do the Bartman.
In the episode "Hot Coacoa Bang Bang!" Jeffrey Albertson was seen coming up to Cleveland's stand at the Comic Con, reading his comic and saying "Worst Cameo Ever!".
In the episode "Ain't Nothin' but a Mutton Bustin'", there were stuffed dolls in the store that were parodies of Bart Simpson called "Brat Simpson."
In the episode "Turkey Dot Pie", a parade float of Bart Simpson is seen in the Macy's parade.
In "Dial M for Mother," Homer and Bart made a brief appearance in "Dial M for Mother". During an interview with Geraldo Rivera, Jay is asked about talking over the heads of his audience and does just that in his answer. An annoyed family watching changes the channel to The Simpsons, where Homer—after stepping on a rake—exclaims, "D'oh!" and Bart replies, "¡Ay, caramba!" The family's father comments, "Now, this I understand."
In Dukerella', Jay and Alice go to a costume ball dresses up as Homer and Marge to meet Duke, Alice's sister crush.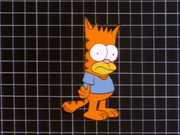 In "Channel Chasers": When Timmy, Adult Timmy, Wanda and Cosmo go inside their TV, one TV show they travel into is a parody of The Simpsons called The Feldmans. It features a opening sequence parody (without the title screen), a theme song parody, a chalkboard gag parody, parodies of Krusty, Ned Flanders, Barney Gumble, Bumblebee Man (Vicky is dressed as him), Springfield Elementary School (entitled "Wintergreen Elementary School"), El Barto (entitled "El Vicko"), Nuclear Power Plant, Moe's Tavern (entitled "Mike's Tavern"), Blinky (Barney transforms to Blinky, while swimming under radioactive sea), 742 Evergreen Terrace and a couch gag. The town of "Wintergreen", is a parody of Springfield.
In "Fairly OddBaby": When Cosmo was Pregnant are with a Baby Poof vomit think a about naming his child "Barfolomew", a reference to Bart's full name. When Cosmo thinks about Barfolomew, the child he imagines is a parody of Bart Simpson.
In "Cheese & Crockers": Mr. Turner invents his own toilet seat, which is similar to Homer's Lazy Man Toilet Seat from the episode, "The Wizard of Evergreen Terrace".
In episode Supper Villain/Collect Her,a character named Lenny Baxter is almost identical to Comic Book Guy.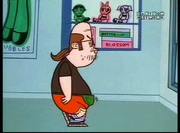 The Office Edit
In one episode, Michael lists off famous people from India; he mentions Apu.
In one episode, Ted says "Let's teach Bart Simpsons how to drive!"
Homer tells the kids how he met Marge.
In episode Bottomless Pit Dipper says, "How you diddly-doing, Soos?" which is a reference to Ned Flanders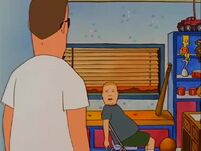 Bobby Hill has a Bart Simpson doll in his bedroom.
In "Billy Idiot / Home of the Ancients", the bride of Frankenstein have the hair similar to Marge Simpson.
Avaturd / CSI Carly Bart Simpson appears wearing glasses
Pirates of the Neverland: At Wit's End / Batman Family Feud Once the pirate saw Neverland, the Simpson's opening is parodied with the same music, and the factory to the top left.
Ko-Bee Movie / Law and Ogre Homer Simpson appeared in a picture at the Wolfgang Bucks store.
ArThor / The Big Fang Theory Bart Simpson appeared writing on the chalkboard
Dances With Wolverine / Tater Tots & Tiaras Dr. Hibbert appears as a judge in a segment titled "America's Next Top Surgeon
In the episode "Mr. Empty Pants", Peggy Bundy mentions Homer Simpson.
A The entire show is a rip-off of The Simpsons.
A Britney Spears imitator says that her sister's show Zoey 101 is better than animated shows like The Simpsons.
In an episode, they make a reference to Apu.
Homer, Marge, Bart, Lisa, and Maggie make an appearance singing near the end of the song, "Monster in the Mirror".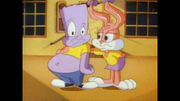 In Tiny Toon Adventures: How I Spent My Vacation, Elmyra Duff gives a lion a Bart Simpson type haircut.
In the episode "Pledge Week", Babs Bunny does impressions of Marge, Bart and, Maggie.
In "Toon TV", Babs mentions Bart in the song segment "Toon Out, Toon In".
In "Weekday Afternoon Live" their is a spoof character of Bart named Blard Simpleton.
In "Tiny Toon Spring Break", Bart Simpson makes a cameo locked in a cage along with the other animal characters Elmyra has kidnapped.
In one episode, The Simpsons appear on a TV screen.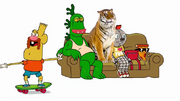 In the episode Uncle Grandpa land the cast does a couch gag with Uncle Grandpa dressed as Bart.

Video Games
Edit
Club Penguin Edit
In the SWF for the new Clothes Shop (2012 - present) , Marge Simpson is seen in a cameo.To avoid lawsuits, they changed the color of her hair to purple and put bows in her hair.
In the mission "Hankagai", a poster with 2 Mr. Sparkle's fishes, can be seen.
In Disco Stew ability is a refrence Disco Stu
Minecraft XBOX Edition Edit
A Simpsons Skin Pack DLC will be available by Late Febuary 2015
In the game, a hat is available to the Medic called "Ze Goggles" with the description stating that it does "nothing", a reference to a line from Rainier Wolfcastle in the episode Radioactive Man (which is also a popular internet meme).
In a blog post on the TF2 website explaining the development of the class "Demoman" (a black Scottish cyclops), the developers mentioned that they made the character black because at the time it looked too much like a "Groundskeeper in Springfield."
Comics & books
Edit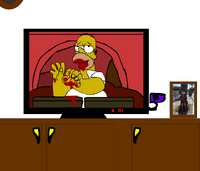 In "Give Nadia a Break," Homer was seen on TV eating chips with sauce, the artwork was redrawn from the Simpsons episode "Dial "N" for Nerder" in a different artwork. Homer was also added another finger in each hand with nails, unlike the regular character in The Simpsons.
In Dilbert drawing bart ride bicycle is clever
Nickelodeon Magazine
On the cover for the April 2001 (Kids Choice Awards 2001 editon), Bart makes a cameo.
On The Fastrack
The May 23, 2015 comic by Bill Holbrook includes Rose Trellis being drawn in several cartoon character styles, include with Marge's hair. The punchline is that because she is one of the richest people in the world, she objected that the cartoonists didn't pay her for the privilege of drawing her that way.
| | | |
| --- | --- | --- |
| | D'oh! | This article is a stub. You can help the wiki by embiggening it. |