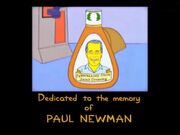 The following is a list of real-world people who have worked on The Simpsons, but later died, whilst the show was still airing. It includes deceased voice cast, staff and guest stars. Often, subsequent episodes have been dedicated to them.
Deaths
Cast
Doris Grau, 71 (died December 30, 1995) - Grau provided the voice of Lunchlady Doris and several minor parts. She had previously served as a script supervisor for the show. Because of Grau's death, Lunchlady Doris was retired, but has since made appearances under the name "Lunchlady Dora". Tress MacNeille currently voices Lunchlady Doris since "The Mook, the Chef, the Wife and Her Homer". "Team Homer" was dedicated to her. Died due to chronic obstructive pulmonary disease.

Phil Hartman, 49 (died May 28, 1998) - Hartman regularly provided the voices of Troy McClure and Lionel Hutz, as well as other minor one-time parts, such as Lyle Lanley in "Marge vs. the Monorail". Following his murder, his characters were retired and "Bart the Mother" was dedicated to him. That episode featured Hartman's last speaking appearance as Troy McClure. A section of The Simpsons Forever!: A Complete Guide to Our Favorite Family...Continued is dedicated to him. Died due to being murdered by his wife, Brynn, who was on drugs.
Marcia Wallace, 70 (died October 25, 2013) - Wallace provided the voice of Edna Krabappel. Her book, Don't Look Back We're Not Going That Way, is a biography that recounts the early detection of her breast cancer. "The Man Who Grew Too Much" was dedicated to her, and Edna had since been retired after Wallace's death. Died due to pneumonia, sepsis, and breast cancer.
Jan Hooks, 57 (died October 9, 2014) - Hooks provided the voice of Manjula Nahasapeemapetilon in "The Two Mrs. Nahasapeemapetilons", "I'm with Cupid", "Eight Misbehavin'", "Take My Wife, Sleaze", "Bye Bye Nerdie", and "Large Marge". Tress MacNeille currently voices Manjula. Died due to throat cancer.
Staff
Guest stars
Larry Hagman, 81 (died November 23, 2012) - Hagman guest voiced as Wallace Brady in "The Monkey Suit". Died due to acute myeloid leukemia from being diagnosed with myelodysplastic syndrome after stage 2 throat cancer surgery.
Citations